The wilderness was calling and, paddle in hand, we trekked up to the central highlands of Scotland for a few days over the August bank holiday weekend 2010. Seven of us had originally planned to paddle 3 days over the Balquhidder route (loch Doine, Voil and Lubnaig) and down the river Teith (after bypassing Leny Falls of course).
However, 2 dropped out and canoe hire fell through and the opportunity arose to paddle loch and river Tay instead.
The river Tay is one of the most paddled rivers in Scotland so I won't bother sharing intricate details on that part but I'll share some of the trip.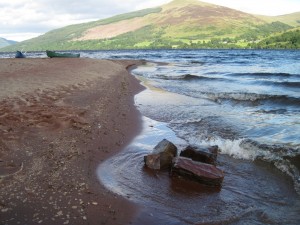 So, 5 of us hired out 2 canoes from Loch Tay Highland Lodge on the north shore just a few miles on from Killin.  Arriving mid evening we had time to strap all the kit in and head west a short distance to an ideal beach for camping. Set up camp, got the fire going and a heavy session on beers followed. Despite the perfect combination of plenty of ale and being knackered from the long drive up I barely slept…turns out both of the guys I was sharing the tent with have a major snoring issue. This, of course continued to be theme the whole trip…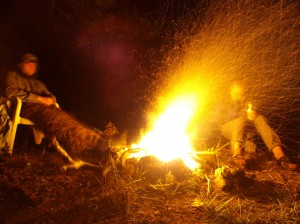 Each marker in the map below shows a feature such as a place we camped or stopped for lunch etc – ideal little beaches heading east along the long loch Tay.  I hope they come in handy for someone:
Once you reach Kenmore at the end of the loch you can treat yourself to a pint by the river and even stock up on food supplies in the little shop. From here on you'll meet lots of small rapids (mostly grade 2 when we were there but touches of 2/3) on the way to Aberfeldy.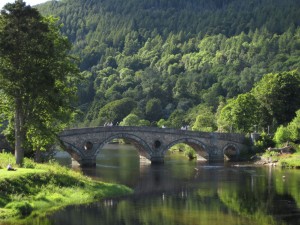 This is as far as we paddled but, of course, beyond this you've got the SCA canoe slalom course which is too much of a handful for us in our open canoes – especially with 3 on one boat (a touch top heavy!).
I've sprinkled the post with a few photos from the trip – you can see many more Canadian Canoe shots in these galleries at buggslife.com. Or even click here for all photos from this particular trip.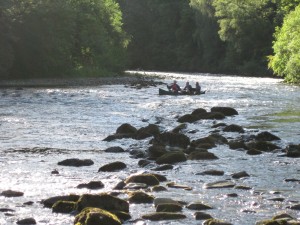 The main problem when trying to photograph on a canoe trip like this is, of course, water. To get around this I did two things:
I bought an underwater camera (Canon Powershot D10)
I packed my DSLR (Olympus E-3) really well – firstly I stuffed my entire camera bag (itself well padded) into a plastic barrel with sealed lid. Then, just to be sure, I fit the barrel inside a huge drybag. This was strapped into the canoe protecting from knocks and water in the event of capsize.
So most shots were taken with the compact – hence the average/poor quality.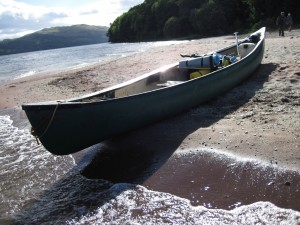 If you have stumbled across this page whilst frantically trying to organise you own multi-day canoe camping trip then I hope this helps. It's only a matter of time before I return to do the intended Balquhidder route and will post after that too…